Congratulations to HPRIR Executive Team member, Daniel Hall, Ph.D., and teams on the publications of two papers in The Journal of Behavioral Medicine and in AIDs and Behavior!
Hall, et al., "A spotlight on avoidance coping to manage fear of recurrence among breast cancer survivors in an eHealth intervention" now available to read online now in The Journal of Behavioral Medicine!
Fear of recurrence (FoR) is prevalent among breast cancer survivors (BCS) and may be exacerbated by avoidance coping. This study examined BCS with avoidance coping and their engagement in a FoR eHealth intervention (FoRtitude).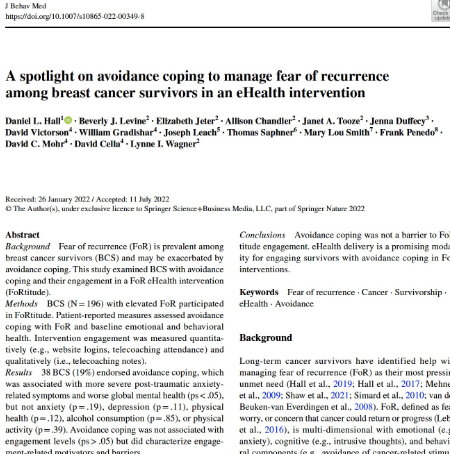 Hall, et al., "Posttraumatic Cognitions and Condomless Sex Among Men Who Have Sex with Men (MSM) with a History of Childhood Sexual Abuse: The Role of Avoidance Coping" now available to read online now in AIDS and Behavior!
This study explicated associations between trauma-related cognitions and condomless sex, examining avoidance coping style and behavior (i.e., substance use) as intermediate variables, among a group disproportionately affected by both trauma and HIV. Two hundred and ninety HIV-negative MSM with a history of childhood sexual abuse (CSA) completed a cross-sectional psychosocial battery. Trauma-related cognitions were positively associated with more acts of condomless sex. Indirect associations on condomless sex were driven by avoidance coping, but not substance use. Findings indicate a need to address trauma-related cognitions and avoidance coping within interventions for reducing HIV risk among MSM with a history of CSA.